The yoga clothing industry is on the rise. Right pair of yoga pants is not a luxury but a necessity. If you feel confused, overwhelmed by advertising, or spoiled for choice regarding the ideal pants for yoga, here's some basic information to get you started.
What Are Yoga Pants?
Yoga pants are pantyhose-like pants made from a stretchy fabric that are suitable for wear during yoga or aerobic exercises. These pants generally cover the waist-to-ankle area.
At the top, they have a flat, elastic waistband with or without drawstrings to comfortably hold the pants in place during vigorous exercise. They are well-fitting on the hips and thighs to allow for smooth movement during yoga.
What Are the Health Benefits of Wearing Yoga Pants?
Yoga pants are made from moisture-wicking materials, which move your sweat to the outer surface of the fabric so it doesn't saturate the fabric. This type of material can help to maintain your body temperature during exercise by preventing overheating and increasing airflow. These materials also dry very quickly, so you don't experience that sticky or moist feeling during yoga.
Yoga pant fabrics also show antistatic properties by dissipating the electric charge produced by friction during yoga or exercise. They may also have antimicrobial attributes, which help prevent odors and maintain personal hygiene.
Yoga pants are lightweight and comfortable for ease of exercise. These pants are made from stretchy fabrics that don't restrict your movements or the blood flow to your limbs during exercise.
How to Choose Yoga Pants
Yoga pants can be categorized based on the type of material, style, length, and cut. Some of the most popular types of yoga pants include high-waist yoga pants, yoga shorts, yoga capri pants, tight yoga pants, loose-fit yoga pants, wide-waistband yoga pants, and specialty fabric yoga pants.
Most yoga pant variants are available with or without pockets on the side or in the back to store important items.
Length
Full Length vs. Capris
Capris end somewhere below the knee to mid-calf, or around a 19-20 inch inseam. Whether you prefer to practice in long pants vs. capris or shorts is a matter of personal preference, as well as the climate you live in and the type of yoga you practice. Hot yoga practitioners often wear as little as possible in their heated studios. However, you're not leaving your house in shorts or capris in the middle of winter in the Northeast. All of the capris models that we tested are also available in a full-length.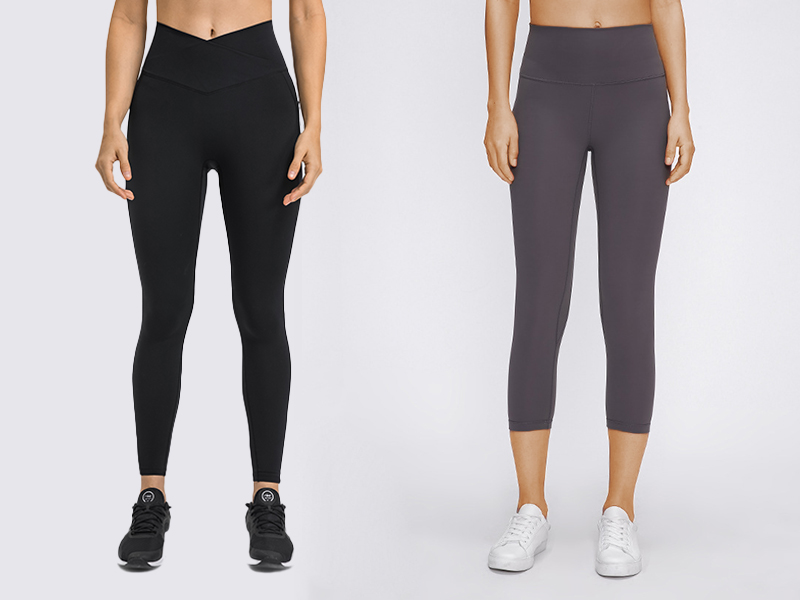 Style
Straight or Flared leg vs. Leggings
The cut of your pants is entirely up to personal preference. Some people don't like the look of leggings and opt for straight cut or flared legs. Others prefer the feel of leggings during strenuous classes as there is less material flapping around. Some like to mix and match, practicing in leggings but wearing flared legs when running errands or lounging around the house. You've probably already made up your mind as to which way your preferences lie, and luckily there are great options available on both sides of the debate.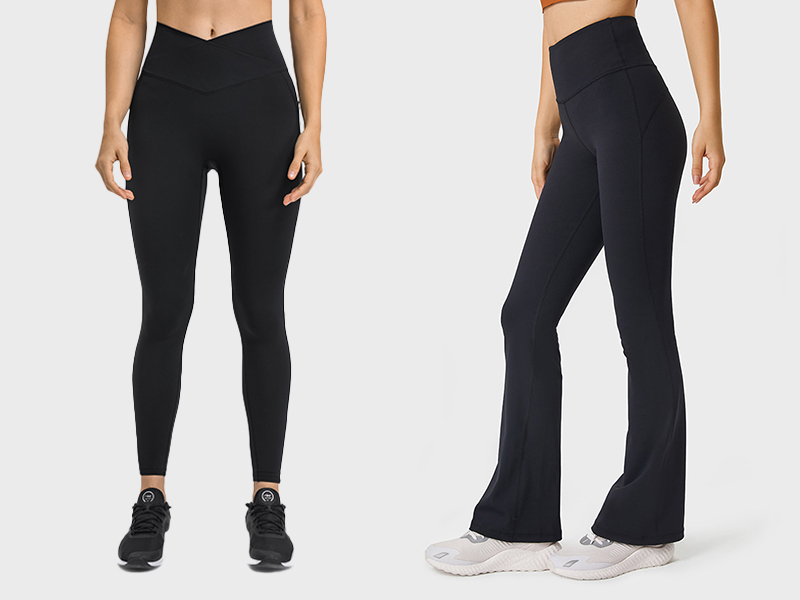 Fabrics
There are three options in terms of fabrics: cotton, synthetics, and cotton-synthetic blends. Each fabric has positive and negative attributes.
Cotton
Cotton is considered a "natural fiber," as it is grown rather than manufactured from plastic-like synthetic materials. Properties include:
Soft feel
Resistant to pilling
Sheds pills when they do form
Moisture absorbing
Not as breathable as synthetics
Prone to fading
Synthetics
There are many different synthetic fibers used in yoga pants. The most common ones are polyester, nylon, and spandex. You might see terms like "Lycra" spandex or "Supplex" nylon, which are trademarks of a specific type of this fabric. Synthetic materials are known for their:
Moisture-wicking properties
Propensity to pill
Shape retention
Stronger smell after sweating in them
Not as soft as cotton against the skin
Cotton-Synthetic Blends
Synthetic materials ventilate your moisture faster than cotton, and they are quick to dry. Unlike cotton, these fabrics are shrink resistant, and the addition of spandex (otherwise known as Lycra or elastane) lets them stretch without deformation. However, we are still left with the issues of exceptional stinkiness and pilling.
Considerations to consider as you select your favorite:
Fit and support: From super-fitted to loose and flowy, these details should reflect the item's use and your brand's aesthetic.
Fabric weight: Consider the season and the activity intensity to determine if you want thicker or thinner fabric.
Reflective details: This is especially important for any activities performed outdoors.
Stitching: This should be comfortable, not irritate the skin and be sturdy enough for frequent wear and washing.
Below, we present some of the top yoga pants on the market.
In the end, the right yoga pant is the one that allows you to move uninhibited through your flow and can help you get a positive experience out of your practice.
Uchang is an industry leader in providing the global market with the best wholesale leggings that feature creative and trendy designs, all at amazingly competitive prices. Talk to us today and let us help you build your business!